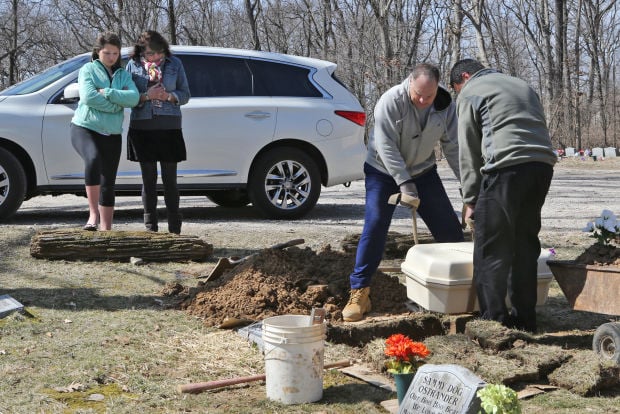 "Bye, Bubba," said Pete Henrotay, as he left the grave site where he and his family buried their dog, Ralph.
Pete's daughter, Carli, grew up with Ralph, who went to school with her every day since the fifth grade. She is now a senior at Lindbergh High School.
"Ralph was my partner in crime," said Carli, in a January interview with Fox2 News. "It was hard to bend down and Ralph was there to help pick things up."
Carli has Fibrodysplasia ossificans progressiva, a disease that hardens the muscles in her body. Ralph was her support dog.
Lindbergh High School secretary Laura Carr told Fox2, "Ralph was going to be honored at graduation ceremonies because he has been here all four years. He has earned his doggie diploma."
On Tuesday, the Henrotay family buried Ralph in Memory Park Cemetery in Twin Oaks. Ralph had been recently diagnosed with cancer.
The family had gotten him through Canine Companions. "It took two and a half years for us to get Ralph," said Lori Henrotay, Carli's mother. "This year he helped a lot of special needs kids at Lindbergh High. He was such a friendly dog."
Story Credit: http://www.stltoday.com/news/local/metro/ralph-beloved-service-dog-of-lindbergh-high-senior-dies/article_26b466f3-be0f-5113-9706-ff58adee3c58.html